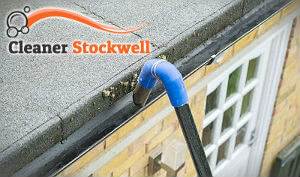 If you want to prepare your property for the rainy days and avoid damages to the house, you should definitely pay attention to the gutters. If you have not cleaned them recently, the chance of having them blocked by fallen leaves and debris is pretty high.
In this case, the best solution is scheduling a gutter cleaning service with us. We are a respected provider of various gardening services and we take pride in having a solid customer base in Stockwell and the neighbouring areas. The reason for our popularity is the combination of sensible prices and high quality you cannot find anywhere in the district.
Efficient Gutter Cleaning Service SW9
As a company that has never disappointed a customer by providing a poor service, we use the best gutter cleaning tools for achieving the results our valued SW9-based customers expect from us. Speaking of the benefits you get from doing business with our company, here are the main factors that make clients define us as a reliable provider of gardening services.
Fair, cost-effective prices for gutter cleaning
A team of experienced, knowledgeable, dedicated professionals
Efficient removal of soil, moss, debris from the gutters
Availability seven days a week
We use ladders on rare occasions as we count on the specialised poles that make the gutter cleaning process a way easier. They have a camera attached to them, so our gardeners are enabled to deliver a thorough gutter cleaning procedure and effectively handle the blockages.
" I think your gutter cleaning service is the best one in town. I can honestly recommend it to everyone here. Your prices are incredibly affordable and your gardeners are really savvy in their job. I was very pleased and am happy that I have a perfectly working gutter system now. -Will"
Reliable Gutter Cleaning in Stockwell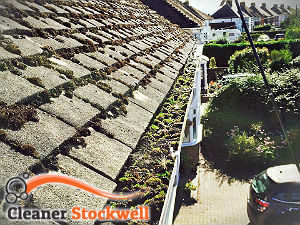 The gutter cleaning service will start with an inspection and as a final test, water will be run along the gutters, so our cleaners can make sure they have done their job just right. You can find our teams delivering services in Stockwell , SW9 every day.
Regardless of the harsh weather, they are always prepared to give you a hand with the completion of the gutter cleaning project.
In order to minimize the risk of damages to your property, you are advised to have the gutters professionally cleaned at least once per year. If you want to ensure fantastic results, don't hesitate to dial our number.
Upon contacting us, you will get a free price estimate. Our customer care agents will be glad to assist you with your queries and schedule a gutter cleaning service. You may rest assured that you will not regret choosing us for your provider of gutter cleaning services.